E-liquid Cloud Vapor Flavours
Prism
Bandi
Gecko
E-liquid Cloud Vapor More Information
Cost: €29~
Bottle Size: 60ML
Nicotine: 0MG, 3MG & 6MG
VG/PG: 70VG / 30PG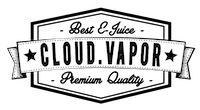 E-liquid Cloud Vapor Prism
"PRISM is a green apple exotic juice, strawberry and kiwi with a delightful note of creamy mango" – Cloud Vapor.
What a great first liquid to try. I'm a massive fan of fruity liquids with my go to flavours being strawberry & mango! On the inhale I was greeted by what I can only describe as sour apple, following from this came a subtle sweet strawberry and finally on the exhale a creamy soft mango. So, their description hit the nail on the head apart from the kiwi which was lost on me.
I can safely say to no surprise that I very much enjoyed this juice. The only improvement I would suggest is to increase the flavour strength across the board. I've been told by Cloud Vapor that the reason for the current flavour level is to make it an all day vape and not to be too overpowering. I completely agree and most people will be happy with the current strength, I just personally enjoy very bold flavours.
The best part of the liquid for me has to be the sour apple and creamy mango. The apple tastes just like a sour apple lolly pop, it has a punchy sweetness and is my personal favourite apple flavouring. Now let's talk creamy mangos, it's the perfect finishing note for this juice and it leaves you wanting more. The closest thing I can describe this as would be a mango ice cream or mango yogurt… Which I also love!
E-Liquid Cloud Vapor Bandi
"Bandi is a dazzling recipe made from fresh blackberries, lime & raspberry" – Cloud Vapor.
Jumping right into this one. On the inhale I immediately get blackberries and gradually through the exhale I get a strong fresh raspberry. I seem to always be missing 1 flavour as I can't taste any lemon, this is not necessarily a bad thing as sometimes lemon can be a dominant taste.
The biggest difference from the first liquid apart from the obvious difference in fruit, is that all these flavours have an authentic fruit taste while Prism was very artificial. As for improvements with this juice, I can't think of any. It was designed and described as a fresh berry e-liquid and that is, what it is. The only addition I would be interested in seeing is replacing the lemon (if there is any) with another berry like blueberries.
The best parts of this liquid is the powerful blackberry and raspberry. They both work very well together and from past experiences raspberry can have a harsh throat hit, the one used in this juice is quite smooth. The blackberry is more of a fresh flavour than a sweet one which is not what I expected but still a nice vape.
E-Liquid Cloud Vapor Gecko
"Gecko is duo of exotic mango, the whole acidulated by a pineapple juice and a hint of stawberries" – Cloud Vapor.
This last juice was the most blended, well mixed flavours. The stand out flavour for me was the pineapple throughout the whole vape. The beginning inhale had clear distinctions of a sweet mango and with the exhale exposing a very subtle strawberry.
This liquid has the least defining flavours and was more of just a sweet cocktail of fruitiness. However I had gone through 40mls in the first week I had this liquid, which speaks volumes about how easy this is to vape. I'm a big fan of sweet flavours with one of my favourite liquids being 'Kanzi' by twelve monkeys, this is very similar in the fact it is a very sweet liquid made up of fruity elements.
Once again the only recommendation I have would be to add more flavour. It won't be needed for a lot of people but I love this flavour and it would be nice to have a longer lasting taste on my tongue. This is a very sweet liquid which for me is perfect but some might find it a bit too much for an all day vape. If pineapple isn't your thing then this won't be for you. Pineapple plays a big part with it being the base that is experienced all the way through.
E-Liquid Cloud Vapor Packaging
The packaging is symbolic of american hip hop and graffiti. Information found on the box includes product name, usual warning, nicotine % and PG/VG ratio. It would have been nice to see some visual representation of what fruits are in the juice. In the box you receive 1 x 50ml bottle of e-liquid with 0mg nicotine, 1 x 10ml bottle of nicotine to add to the 50ml bottle to equal your desired nicotine strength (3mg or 6mg) and 1 x unicorn bottle head.
The unicorn bottle head is twist opening with a large top hole, I found this to be hard to use on most of my tanks apart from RDA's. Even though the concept of "shake and vape" is fairly obvious, it would have been nice to include some instructions on what you need to do i.e add 10ml bottle to 50ml bottle, shake for 5mins and leave but always shake before use.
Review by UK Vapester
►https://YouTube.com/ukvapester
►https://twitter.com/UKVAPESTER
►https://www.facebook.com/UKVapester
►https://www.instagram.com/uk_vapester
►https://www.ukvapester.co.uk
I'm Rob, I'm 26 and have been vaping since 2013. I created my YouTube review channel 'UKVAPESTER' in 2015 and have been reviewing ever since.